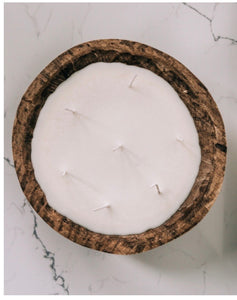 Hand poured candle made of 100% soy wax. Approximately 12" in diameter. 
Grapefruit & Mangosteen- A true to life blend of ripe, tangy grapefruit and mangosteen- an exotic fruit that is citrusy and sweet with a hint of peach. Out of the bottle of the grapefruit dominates with a sharp and punchy citrus notes.
Lavender Cumber & Sage- an exotic blend of lavender, fresh cucumbers and soothing sage.
Volcano Breeze- A delightful blend of tropical fruits and sugared oranges, lemons and limes with hints of exotic tropical florals in Mountain greens.